Project: Panzerkampfwagen V Panther Ausf G
Manufacturer: Armortek
Dimensions: 1473mm (58") long x 559mm (22") wide x 483mm (19" high)
Weight: 136 Kg (300 Lbs)
Material: Aluminum and steel
This kit, as supplied by Armortek, represents a very late production Panther Ausf G and as I am partial to the summer of 1944, Normandy time-frame, some modifications were needed to represent an early-mid production Ausf G attached to 1SS around the city of Caen, June-July 1944.
As my first project of this type I was excited to get the Panther together and therefore do not have early, hull assembly photos of this build. So, the pictures below are after the initial assembly and during the application of zimmerit coating. I'll be creating a step by step of how I applied the zimmerit when I get to that stage of the Panzer IV project.
Zimmerit application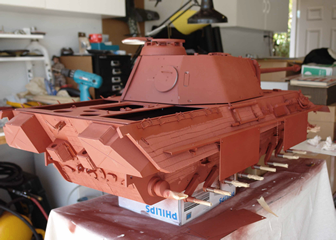 The supplied front fenders are smooth so ribs, side edge and rivet detail is added to the front fenders. I also cut the left fender and added the mounting bracket for the convoy light. The tool brackets are all Mike Stannard's excellent parts and the front/rear Bosch lights, barrel travel lock, jack and jack brackets are Steve Winstone's excellent parts.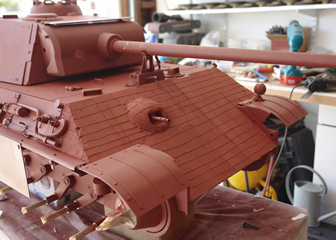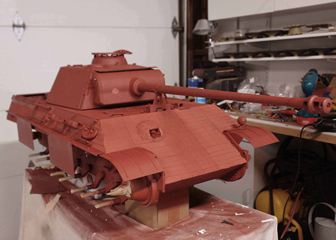 The lower hull receives it's first coat of dunkelgelb and tracks are assembled and test fitted. Notice the kit-supplied late style, idler wheel. This was replaced with a wheel I designed to represent the earlier style idler wheel further along in this build. The heat shields and pipes were also fabricated at this point as well as some detailing to the driver/radio operator's hatches.